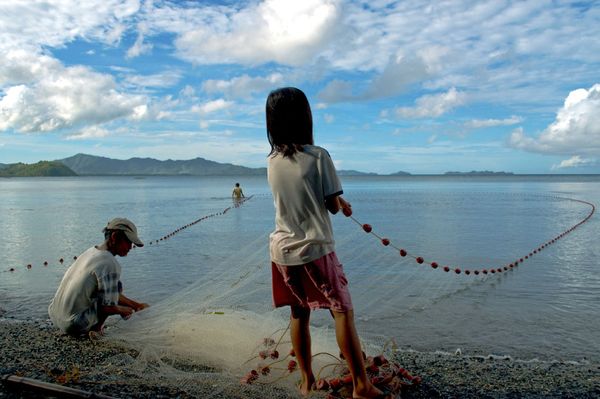 National Geographic has an excellent reputation for beautiful photos.  They have recently done a spread on the Philippines, where I was born.  Not only are there fabulous National Geographic photos, there are also pictures submitted by readers, giving it a personal touch.
I recommend that everyone visit the Philippines.  It is a beautiful country of over 7,000 islands, though my grandmother will tell you she's only been to about 20 and, therefore, there can't be more than that.  My grandfather will tell you about the natural wonders that still exist all over the place, but especially in his hometown of Javier, where he has recently planted over 300 coconut trees (he is not a farmer by trade but he can learn anything).  He has tried to persuade me to do a bit of archaeology in what used to be his parents' backyard.  When he was young, he buried a box of stuff beneath a coconut tree before fleeing the dangers of World War II, but the trees disappeared when he returned so he never did find it again.  (They're not valuable; don't go raiding his land!)
For my friends, go and discover the surf in Boracay, one of the top tourist destinations; you will not want to go home.  Make sure to visit the Beach Bum Bar and say hi to my cousins (and to Manny "The Pacman" Pacquiao, if you see him); you will get treated right. '
Notes: Photo by Arlene Infante, submitted to National Geographic; used Wikipedia for information links because I didn't like the other websites!
SHARE THIS: