Wessex Archaeology, which makes up half of Framework Archaeology (the other half being Oxford Archaeology), has recently been posting pictures and 3D reconstructions to their Flickr set.  These are some of the findings from the excavations done in advance of Heathrow Airport's Terminal 5.  There is some amazing stuff here: a Neolithic hand axe, Roman ropes, remnants of roundhouses and other impressive earthworks, a plethora of prehistoric pottery and, what I find to be most amazing, a wealth of wooden artifacts dating to the Bronze Age.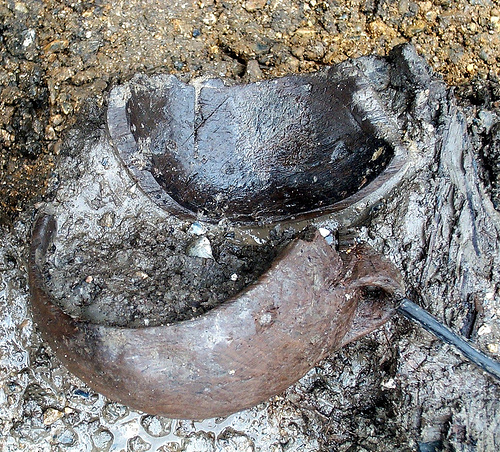 (Wooden bowl from a Bronze Age waterhole, by Wessex Archaeology)
I actually worked on this site briefly during my employment with Oxford Archaeology.  That was when the curse was upon me, one which I had carried since working in Italy in previous years; everyone around me was finding cool stuff (Roman sandals, a Bronze Age ladder, etc.) but I wasn't.  Hopefully, that curse has been lifted.
SHARE THIS: