Welcome back to Females in the Field, a blog series that aims to showcase women in the industry, how they got to where they are and what is needed for other females to elevate themselves in the field! We recently sat down with another one of our beloved staff members, Jenn Gainer, for a little Q&A Sesh. 
Before we dive into the good stuff, here's a little backstory. After graduating from Pigeon Lake Regional High School, Jenn went on to study at the University of Calgary. She has been a consulting archaeologist since 2013 and joined the Circle crew in 2018. Read on for the full scoop on Jenn!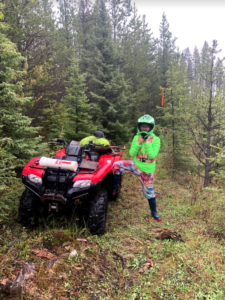 What is one piece of field equipment you can't live without?
My quad helmet! Not to get too morbid, but I'd literally be dead without it. All seriousness aside, it's probably a toss-up between my watch and my hat as I feel completely lost without either, and before you ask, no! It's not a fancy dancy $2,000 Garmin watch either. Currently, it's a Timex with a newly broken glass, but it still keeps excellent time. There's no need to break the bank to have an effective field watch.
How would you say your experience in your journey to becoming a (dual) Field Director has differed from others? For example, do you think that gender identity may have played a role in your experiences?
I have been lucky because mine went so smoothly. Don't get me wrong; it took a while to find a company that invests in its people, which is why I'm happy to be here at Circle. But, through my experiences, I've seen men with less experience given opportunities to advance, which I had to fight to be recognized for.
There were a few instances in my life where a position with more responsibilities or a position for winter work would come up. When there was an option between myself and a man to fill either type of position, I was never chosen. A recent example of this circumstance happened at my previous company. There was a great opportunity to run a small project that had come up, and I put my name in for it. At this time, I had been in the industry for several years, and the other candidate, a man, had only a few months of experience. Unfortunately, the man was chosen for the job even though I would be considered the more qualified candidate. I'm sure many women across a wide range of industries could share a similar story. This particular instance was one of the contributing factors to why I decided to leave my previous company. So to any woman who is reading this! Please don't stay with a company that devalues you because of your gender; many other great organizations out there believe women are just as capable.
I know you live in Calgary, so what made you choose BC field directing or Alberta permit holding?
I have had great experiences in both provinces; however, I do enjoy the BC adventure and working with community members. In Alberta, you need a Master's to move forward in your career, but the nice part of BC is that it's the experience that elevates you. I know some are fearful of the commitment of grad school, so BC offers an excellent option for career advancement if you don't want to go down that road.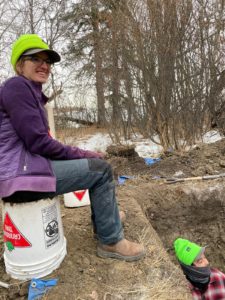 What for you has been the most challenging aspect of being a "female in the field"?
A recent story about gender identity was when I was out on a project, having never worked on this particular type of project before in my experience. I expressed that to a visitor, and he looked over at my male colleagues and said, but I bet these guys all have…
I have also worked in areas where there seems to be a strange dynamic of who can perform which roles. There are very few jobs that I cannot do, and most of the items we need to move physically are not too heavy for me. Still, I find that the 'hard jobs' are given to the men, making me feel lesser. I know that few of the kick-ass ladies I work with and myself are quick to remind the men we work with that women are tough, smart, and strong. I'll always continue to share that message.
What has been the most rewarding?
I enjoy showing people that small women can be furious and get the job done. I love teaching others and sharing my wealth of knowledge and experiences with them, as well as learning from them.
Where is your favourite place to work and why? 
I love in-town jobs! I used to work directly in Calgary, and it was so nice and freeing to be home every night. I also love the Chilcotin; it is a hidden gem in BC and is the direct reason I advanced in my career.
How does a young female embarking on her consulting career follow in your footsteps?
I would say just do it. Never make excuses, be true to yourself. The only way you are going to stand out is not to stand aside. Speak up, don't go with the flow. I believe that I am valued at the company because people know that if I disagree with something, we are not going to find out about it at the end of the shift or the end of the year. It's going to be addressed at the time. Not the best way to make friends, but it is a great way to earn respect.
Do you have a fun anecdote from the field?
I have about 1000 fun stories from the field! Most recently, I was subsurface testing, and a deer bounced through our site. I guess he didn't realize we were there right away, so he started to panic awkwardly. It was the strangest thing to witness how unaware this deer was of its own surroundings. 
Any last advice for other females in the field?
Stand out, don't stand by. But that is not just for the women.
SHARE THIS: