I had to dig deep into the Circle social media history to find this photo. Two hundred ninety-four weeks, to be exact. This photo was taken on my very first day at Circle, which was almost six years ago! Anyone who knows me is likely unsurprised that I spent most of this day utterly stuck on a road that shall remain nameless.
I never grew up thinking I'd be working in this industry, although I've always liked archaeology. I'm a massive nerd but technically not a traditionally strong student, so teaching or museums didn't feel like a good fit for me. Raised on a very remote farm in Saskatchewan, the demands of the consulting work came pretty naturally to me. I also have ADHD and have found desk work and research pretty challenging. Consulting was an easy way for me to marry my love of history and archaeology with my need for a more active job.
When I first started at Circle in October of 2015, I'd just been laid off, and I was feeling pretty low. I had told myself I'd consult for as long as it took to pay off my student loan, and then I was done. The seasonal nature of the job was exhausting. I couldn't imagine spending the rest of my life looking for winter work year after year. But then a friend of mine suggested I apply to an open position at Circle. I was told that the work would probably be more challenging than I was used to and that I should be prepared to get a little uncomfortable. That morning I ended up sending Margarita (Managing Director at Circle) my resume along with an email that said I preferred the forest because I wasn't made for direct sunlight and that I'd call her that afternoon to follow up. I was hired on that phone call and started that week.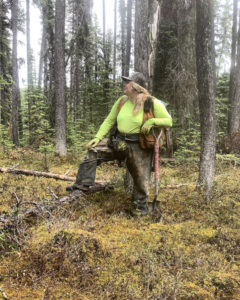 Back when I first started, Circle was made up of a small team and little office space. It's incredible to see how we've grown to a team of thirty-plus people with a Calgary and Edmonton office. One of the significant changes that I noticed surrounded the shift in company culture over the years; Circle shifted to a stronger focus on people, mental health and safety. Circle is a place where people want to spend their whole career and not just as a stepping stone to another company. I started as a field assistant, and now I'm nearly a permit holder! If someone were to ask me what I love about this job, it would be that I feel like I have guaranteed work. It's so common in this industry to have inconsistent work where you're constantly laid off and looking for new opportunities. On a deeper level, I love that I feel like I matter. That might seem so small, but just knowing that my boss is always there when things are falling apart, willing to be a support and advocate for me is huge.
My favourite part about working in this industry now is how heavily female-dominated it has become. Traditionally, these kinds of roles were filled by men, but I think it's so cool to see more women getting involved. Though this field of work isn't for everyone, I love that I can be elbows deep in the dirt or cutting through some particularly large deadfall while being surrounded by like-minded women saying, "get it, girl!"
SHARE THIS: