Welcome to the first blog instalment of Females in the Field! These blog posts will aim to showcase women in the industry, how they got to where they are and what is needed for other females to elevate themselves in the field! First, I (Brooke) had a casual conversation with one of our very own Shannon Wright. Shannon has been a consulting archaeologist since 2014. She joined the Circle crew in 2018, and since then, Shannon has moved from field archaeologist to supervisor to permit holder.
What is the one piece of field equipment you can't live without?
I can't live without my headscarf, or my hair will go all over my face, and I'll have a fit. #teamheadscarf
How would you say your experience in your journey to becoming a permit holder has differed from others? For example, do you think that gender identity may have played a role in your experiences?
I went straight into my master's from my bachelor's, not knowing that it was my road to permit holding. Therefore, when I did enter CRM, I never had to consider the pros and cons of going back to school and getting a master's as it was always in my back pocket as I grew my experience and knowledge. I certainly do feel like there are historically more male permit holders, but that is rapidly changing. However, I think that women are often viewed through a more critical lens, and while a mediocre man might slip under the radar, there is no place for a mediocre woman. Thus we must be exceptional at everything we do.
What for you has been the most challenging aspect of being a "female in the field"?
Sometimes, men in the industry, not necessarily archaeologists, think women are soft and don't belong in the bush. I've had moments where industry men told me they were surprised that a woman could be so tough and did not expect me to succeed when they first met me. I think they think it's a compliment.
What has been the most rewarding?
It's a toss-up between teaching and inspiring other young women in the field and the feeling of satisfaction when I do a kickass job and crush it in the harsh terrain.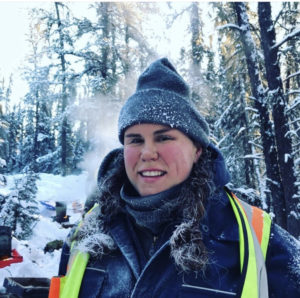 How does a young female embarking on her consulting career follow in your footsteps?
Be determined, do your best, and don't let anyone tell you you are not good or tough enough. Determination to cross the finish line gets you halfway to reaching the top.
Do you have a fun anecdote from the field?
Once, two other kickass females and I fought a forest fire in the bush. Of course, It was not how we intended to spend the day, but it was surprisingly fun, and I didn't hate it! I couldn't have asked for a better fire-fighting crew and a great photo opp.
Any last advice for other females in the field?
Women are tough as s***. I have worked through a broken arm, nearly drowned in a swamp and camped in the bush for a week. If I can do it, you can do it. 
SHARE THIS: