Most of our clients know that we provide heritage and Geographic Information Systems (GIS) services in British Columbia and Alberta, but we also service Saskatchewan, Manitoba, the Yukon and Northwest Territories! In all of these places, we can provide our suite of services: field assessment (HRIA/AIA), desktop assessments (SoJs/AOAs), GIS, monitoring, and anything else you might need to meet regulatory requirements for archaeology and heritage/historic resources. However, when it comes to GIS services specifically, we believe that we have a pretty darn qualified team, since we employ multiple staff members with both archaeology degrees and B.GIS degrees!
Why do we need GIS?

Pretty much every field of work uses GIS because most data have a geographic component. In archaeology, we need to use GIS at every stage of the job – from identifying which projects need an archaeological assessment, getting to our work site, capturing data in the field, and reporting on what we found.
What kind of GIS technology do we use?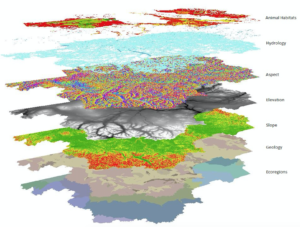 In the field, we use iPads and GPS devices to help us collect data. In the office, we use multiple different GIS tools to aid us in our work, including Google Earth Pro, DNR Garmin, and online maps (RAAD, AGSP). But the main tool we use is ArcGIS – this is the gold standard for GIS software, which is why you need a license to use it. At Circle, we have eight licenses, because we love the utility and efficiency this software brings.
What are the benefits of having a GIS specialist in house? 
All the mapping that gets done will look oh so good. Have you taken courses on cartography, colour theory, and labelling? We'll assume the answer is likely no, but a GIS specialist has!
Your spatial data to be well managed. GIS data can come in multiple different formats and from multiple different sources. A GIS specialist will know how to organize all the data accordingly.
All GIS work will be done efficiently. When it comes to GIS work, there are multiple different ways to accomplish the same task, but a GIS specialist will know the most efficient way of getting any project done in a timely manner.
The basics of GIS are not too difficult to stumble through on your own, but if you want to do some more complicated spatial analysis (i.e. making a predictive model), then you will probably want and NEED a GIS specialist.
SHARE THIS: