For this Mother's Day, we ask the moms on our crew to reflect on what it means to be a working mom, especially working in the field of archaeology. With having to be away from home for extended periods of time comes missed events and milestones. Cue Mom guilt. Here's what a few of the moms on our team had to share about their experiences and also their advice for moms going through the same thing as fellow archaeologists or who are in a similar line of work.
How do you feel when you have to leave your kids at home before heading out into the
field?

leaving home can bring on feelings of anxiety, overwhelm and stress. The things I have worried about are: will they eat healthy food, will they brush their teeth and wear clean clothes, will they remember the schedule, will they go to bed on time rather than watch tv? At the end of the day, if all of the "things" went sideways, the only thing that would truly matter was that they were alive and healthy when I arrived home. What I learned is that if they were late, had McDonald's every day, wore dirty clothes and had their hair in shambles, all I truly want is to see their faces when I arrived.
Is there ever an issue with the division of house labour?
Not for the most part. The biggest issue we deal with at home is when I leave, my husband cannot seem to do my stepdaughter's hair; of course, it is down to her waist! She cries when he brushes it so he can't put it into a ponytail and forget about a braid! So when I'm away, and she has to go to school, it's always the question… What is going to happen to her hair? So far, we don't have an answer, but I personally think she rocks the wild child look. Also, no one can find anything in the house when I'm not there. I come back to funny makeshift things because no one could find anything in plain sight. Of course, that's frustrating at times, but we just make it work.
Have you missed big events? What was that like?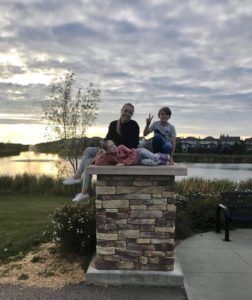 I haven't had to miss much except for a couple of camping trips during the busy summer season. I've been lucky enough to make it to birthdays, first days of school, and Halloweens (my holidays of choice).
Five tips that has helped our resident moms:
It's cliche but don't sweat the small stuff. Why bother putting yourself in an overwhelming situation when no matter what, those who you leave at home will figure it out! If they don't, then you're able to teach them something new when you return for next time.
Seek support from people you can depend on. If you don't have any, find yourself some! THIS IS KEY! Remember, you should never feel like you're in the parenting game alone.
Spend the $80-$100 to get a house cleaner to come in before you arrive. Trust me. Walking into a clean house is a game-changer for your mental health after a long time away.
Rather than spend time worrying and doing 101 things before leaving, spend some time writing small notes and leaving them in your children's rooms for them to find while you are gone. I find that this helps with the mom's guilt too because even when you're gone your kids will still feel loved and remembered.
Plan for a special day together with your kids upon your return. This doesn't need to be anything elaborate but a family walk to get ice cream or going to see a movie together is sometimes enough to feel reconnected.
SHARE THIS: