Yes, we know, field season is officially over until next year, but that doesn't mean you can't take note of some of the best restaurants for the next time you're out there. Let's set the stage for a typical day in the field, shall we? After waking up to an early morning or working a long day, there is one question on everyone's mind….What are we eating? Food is a constant source of discussion for our crews, and we've teamed up to gather some of our favourite places to eat, in all of our locations. Whether it's an early morning pastry or a hearty plate of food for dinner, if you find yourself in one of these communities, these are the spots that are tried, tested and true. 
Kelly's Bakery, Mackenzie, BC
Kelly's Bakery is a lovely place to stop by on a crisp morning in northern BC, especially if you're in the mood for a coffee and a pastry. Though the field work can be hard and grueling, starting the day here can certainly keep you going. Cinnamon buns and cookies are the best kinds of snacks for taking your morning helicopter ride over Williston Lake. Even if it's not field season and you just happen to be in the area, this is the place to be.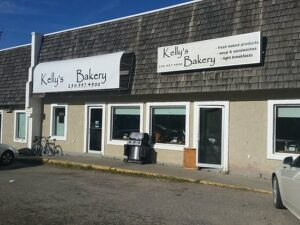 J's Java Domain, Peace River, AB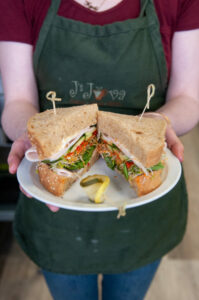 During the summer months, many of our staff need a good coffee to help them up in the morning. Some even feel it's more important than breakfast, because after all, it gives you a little boost to get the day's work done! However, throughout our travels, we have also found that sometimes, the hotel coffee really does not do it on those cold November mornings. For these mornings, one of our crew's favourite pick-me-ups is J's Java Domain in Peace River. It never hurts to have a killer cinnamon bun to go along with that hot coffee (and you might be sensing a theme here 🧐). 
Mountain Pizza and Steak, Whitecourt and Edson, AB
While this is an amazing place to order a great pizza for pick-up on your way into town from a long day in the field, it's SO much more than that. Both Mountain Pizza and Steak locations have a cozy atmosphere with a varied drink menu and a solid array of Italian food. While I would suggest the Gwen special pizza if you find yourself at their Edson location, the tiramisu is also quite the crowd pleaser whenever we visit.
Red Tomato Pies, Williams Lake, BC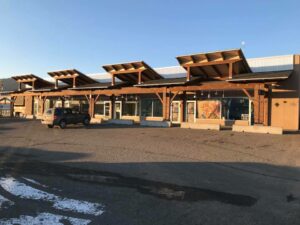 Red Tomato Pies is one of our favourite places to order from on any night that we are in town. While all the pizzas are great as they are, you'll want to read through all the available sauce customizations on their menu to really get the full experience. It never hurts that they are attached to a gelato place as well! You get the best of both worlds!
Mirage TasteHouse, High Level, AB
Located in the Mirage Hotel, this is both a great place to eat and a short distance to travel after a hard day. Though we just got to the end of field season, it's always comforting to know that the Mirage is never actually a mirage, even in the thick of it (the hard work, that is). Everything from classic burgers to elk steaks form a diverse and delicious menu. It definitely feels like a mirage when you get this far up into northern Alberta.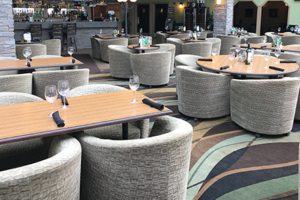 Kenny's Place, Grande Cache, AB
The food is great quality, but the big reason to come to Kenny's Place is for the friendly service and atmosphere. Of course, this could also be due to us enjoying their mojitos a little too much, but who knows! Their large menu also means that there really is something for everyone (and another attached ice cream place that you can visit on your way out).
Coconut Tree, Edson, AB
Coconut Tree has a substantial menu ranging from Chinese food to Thai and Western, but the real reason to go is for the Vietnamese. In our eyes, there's only one place in Edson to get a fantastic vermicelli bowl with some crispy spring rolls. Though the location is small, it's always a welcome change from the classic pub food that we are used to while on shift. Until next season, Coconut Tree! 
Sajj Shawarma, Whitecourt, AB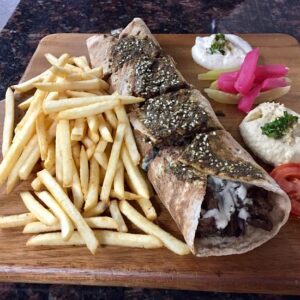 Sajj Shawarma has a small venue if you're dining in with a larger crew, but the food is great. All of their pitas have a spice mixture that makes their wraps an amazing take-out option, and who doesn't love that?! If we happen to be passing through town on a drive day, many of us never miss the chance to stop in for a great, hearty on-the-road lunch option.
Indian Food
This location is a bit of a cheat, but you can't really go wrong with a big serving of butter chicken (with some garlic naan of course). These are a few places our staff have enjoyed.
Himalayan Kitchen, Quesnel, BC

Tummy Full, Fort Saskatchewan, AB

Sammy's Steak and Pizza, Swan Hills AB
Whether you are dining in or taking it back to your hotel these places have options that will always fill you up.
And with that, we come to a close on this chapter of our lives…for the year, at least. When you're coming up on the beginning of field season, which of these spots do you most look forward to returning to? With so much time in these locations across BC and Alberta, we have become very fond of the restaurants and owners that keep us going when the going gets tough. Let us know if you end up trying any of them outside of your normal shift!
SHARE THIS: