As part of our efforts to better introduce you to each and every one of our team members, we are hosting a Q&A on the blog every month! For February, we want you to get acquainted with Anthony Russell, one of our Project Archaeologists. Anthony is a well-traveled Vancouverite (now Wetaskiwinner) who has done fieldwork in places like Italy and Scotland, as well as various locations in Canada.
In his spare time, Anthony is a self proclaimed sub-par gamer, a neophyte cider maker, a world-class cider consumer, and a fan of several failing sports franchises. He is a big fan of his two cats, two dogs and many fish (go ahead, call him Dr. Doolittle 🐈🐕🐟). Oh ya, and did we mention he has an irrational hatred of salad forks? All of this can be found in his bio here, but we dove a little deeper into the Q&As this month. Read on to view the world from Anthony's POV!
What made you first pursue Archaeology as a career path?
I was working in hotels, having entered that field while on an extended working holiday in Australia, and while I had enjoyed the work Down Under, after two short stints at hotels in my hometown of Vancouver I realized that this was not the career path for me. At that point I wondered about going back to university to change my career track. My first thought was engineering, but a quick web search of the qualifications for such programs showed that I would have to go back to Grade 11 science classes to top up my credentials, and at 31 years old I couldn't face that. Then I had a mini-epiphany that I had enjoyed the handful of Classical Studies courses I had taken as an undergrad, and had also loved visiting Mediterranean archaeological sites as a tourist in the 1990s, so I signed up for an unclassified year of studies at UBC, both to get my qualifications for their grad school program in Classical and Near Eastern archaeology, and to gauge whether my interest was genuine. That was 22 years ago, and I haven't looked back yet!
What do you find most rewarding about your work?
Both in Canada and in Scotland (where I first worked in CRM), I have always loved the fact that this line of work will take you to remote parts of your country, province, world, etc., that you never would have seen without archaeology bringing you along. The places that don't even pretend to have a tourism angle. Every once in a while, you even find something good (and something wild, like this place right here).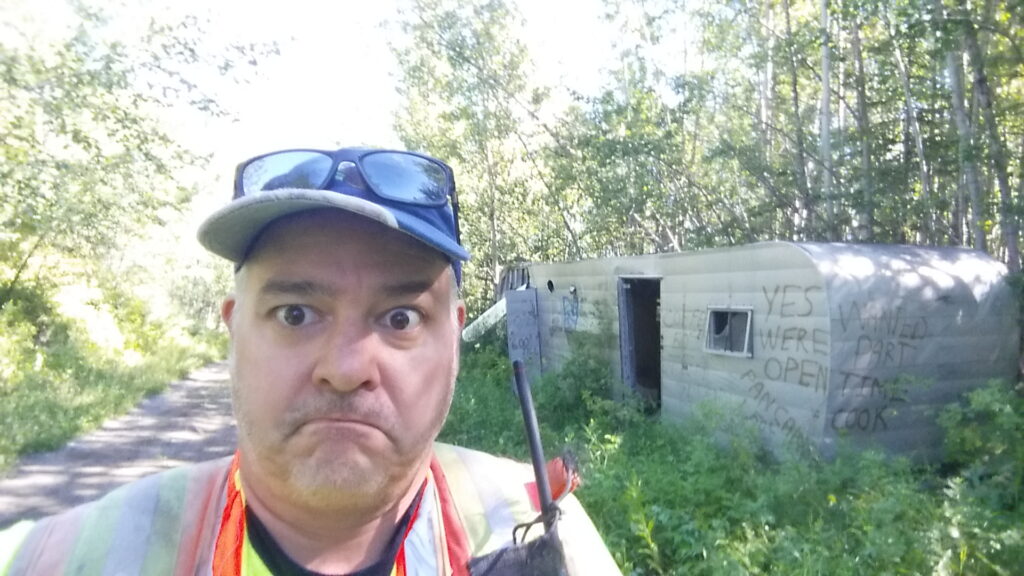 Where is your favourite place that you've worked?
I am definitely someone who tries to appreciate every place that work takes me, even if a few places make you look really hard to find the joy. That said, I had several enjoyable seasons of work based out of Merritt and the Nicola Valley, which is one of the most beautiful places in western Canada.
Honourable mention goes to Fairview, Alberta, where I spent a couple of nights last year. The hotel was very basic, the town is quite small, with few amenities, but we were a short walk away from one of the best little brew houses I have ever been to. If you find yourself in Fairview, treat yourself to the Heilan Beer House – I recommend the pizza.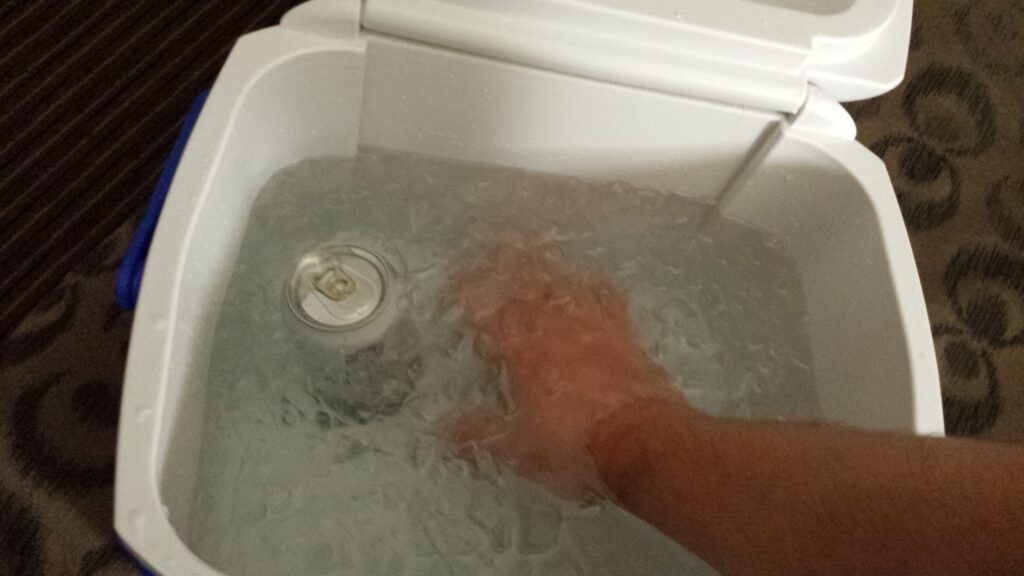 What is one piece of field equipment that you absolutely cannot live without?
Some might debate whether it counts as "field" equipment, but I bring along my own shower head for those times that you find yourself in accommodations with a less than appealing spray coming out of the nozzle. I can't count on my hands the number of times a quick swap out with my shower head has improved the post-field clean up significantly (and there is nothing worse after a rainy, muddy, cold day in the field than to come back to a sub-par shower).
Tell us one thing about yourself that 90% of us do not know?
In 1983, I competed in the BC Winter Games at Fort St John, wrestling in the 51 Kg weight class. I was a last minute replacement for the athlete who had actually qualified. So I was competing against wrestlers 3-4 years older than me. I had eight matches, and I lost 7 of them. My only victory was over another wrestler who had broken his arm earlier in the tournament and had to forfeit. He said he was still willing to take me on, and I have no doubt that would have been my eighth defeat if they had let him. Fun fact: even half of me couldn't qualify for the 51 Kg class today!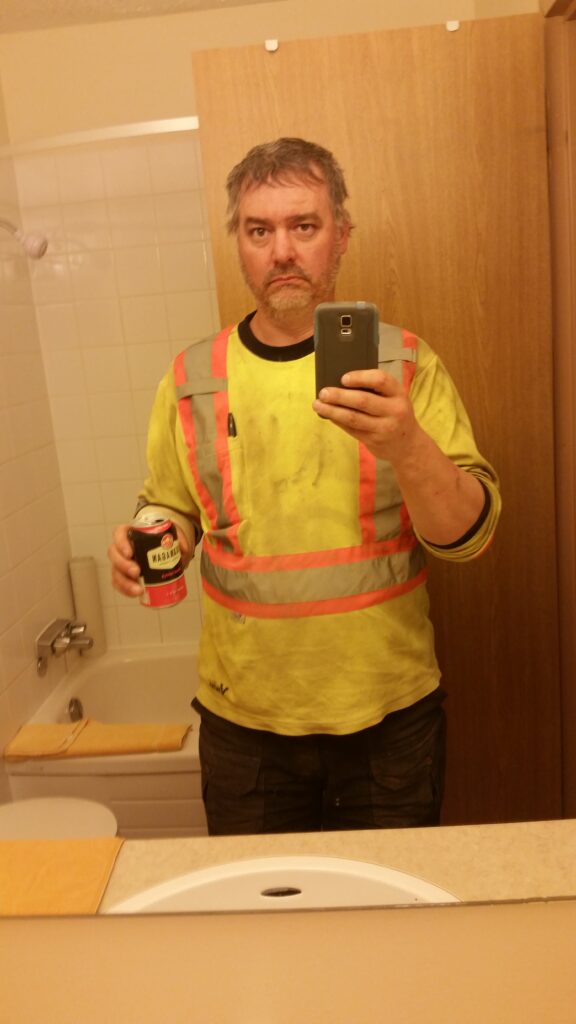 How would you spend your evening if you were in a cabin with no cell service and little internet?
Give me a couple of cans of cider, put the iPod on shuffle, and prepare for an epic air guitar session.
If you had to choose, which field animal do you most identify with?
Probably the bison, because after a hot and dusty day in the field I consistently look like I have wallowed away in a dirt pile. Photo evidence below. 😂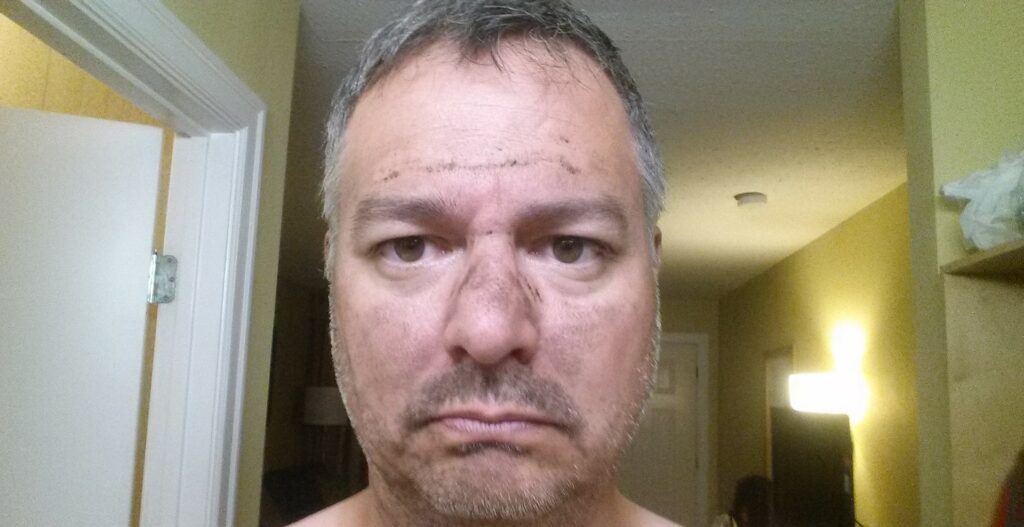 Thanks Anthony! That's all for now. Make sure to follow along with our blog next month to meet our next special guest.
SHARE THIS: